| | | | |
| --- | --- | --- | --- |
| LEADERSHIP ACADEMY FOR YOUNG WOMEN | | | |
This is announcement for Leadership Academy for Young Women which   will take place by Ohrid lake from 16th to 25th of July this summer. The Academy is open for every young women from 18-30!!!
The slogan of the Academy is: Change yourself to change your future!
The deadline for applying is 01st of May.
It is 10 days unique experience that will provide to its participants ready-to-use set of skills on how to become leader that contributes to the improvement of lives of women and girls within their communities.
During the Academy women can learn and gain new experience on leadership trough case study, discussion, role play, self-assessment, peer work, presentation, and team work. Every woman will have the opportunity to gain new insights about herself, her vision and strengths by assessment and individual coaching sessions.
It is practical holistic training to empower the girls in four fields (heart, mind, body and soul).
 It is the very core of Soroptimist International – transferring knowledge from experienced women to young women who are just starting their independent life.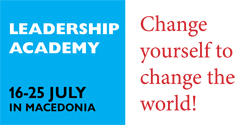 Giving opportunity to women coming from different social, economic and cultural status to meet, make friendships, learn and create projects for benefit of the community together.
 The Academy - Soroptimist Leadership Academy is a Twinning Project, organized for the first time by  Single Club Struga-Macedonia and Turkish Union .  

 WHEN AND WHERE:
On the shore of the Ohrid Lake (UNESCO site) in Macedonia from 16th until 25th of July 2014. 
WHAT CAN YOU AS A SOROPTIMIST MEMBER DO?
-          Promote the  Academy in your club
-          Support girls from your city/country to participate on the camp
-          Support lecturers from your city to come and teach on the camp
-          Apply to teach on some of the suggested topics
-          Spread the news and inspire other Soroptimist clubs to support this idea
Or
Just visit us during the camp, enjoy the Soroptimist atmosphere and refresh in the beautiful Ohrid Lake
Additional information you may find on following links:
LINK to information about the Academy
LINK to Call for Participants
LINK to Call for Trainers/Lecturers/Presenters