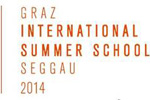 Focusing on the emphasis areas of the University of Graz – South Eastern Europe and North, Central and South America – the Graz International Summer School Seggau 2014 - Transformation and Change: Europe and Beyond will take place from June 29th to July 12th, 2014 at Seggau Castle in Styria, in the wine region close to the Slovene border. Emphasizing on the aspects of transformation processes and demographic change, interdisciplinary morning lectures will provide the context for the six specialized seminar workshops in the afternoon. The Graz International Summer School Seggau is designed for internationally oriented, highly motivated students from all disciplines, who wish to deepen their understanding of current European and International affairs by studying and discussing global developments and challenges within the context of transformation processes and demographic change reflecting aspects of individual, social, political, religious, cultural, literary, regional, economic, cohort and national identities.
Detailed information about the summer school program can be found on our website http://international.uni-graz.at/en/gusegg/.

There are various scholarships available, such as the David-Herzog-Fonds which has generously agreed to fund seven students to participate in the Literature of Transformation module (SM05). The full scholarships cover the total participation cost of 1300 Euros and are awarded upon academic merit.
For more information please check http://international.uni-graz.at/de/stud/int-focus/summerschools/gusegg-summerschool/fees-and-payment/

Application Deadline: February 28th, 2014